nac Original Adapter
nac original adapters
We provide popular adapters for quick testing.Also there are adapters for high-voltage testing.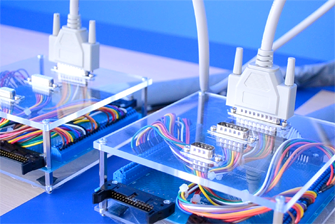 Easy to complete the testing by NMADP-03
It was created by requests from customers.
NMADP-03 is one of popular adapters.It is created by requests from customers. It has terminals on both sides. You can connect the test targets to the tester by NMADP-03. The special tools to create are not necessary. The high-voltage testing (AC600V, DC500V) is no problem with it. Please try it and feel how useful it is!!
Relay boards with popular connectors.Adapting to a small quantity large variety of production
The adapters are necessary to connect the targets to the tester.Then typical connectors are used and reasonable.Our original adaptors have connectors such as D-SUB and MIL standard. You can test smoothly by using these.
Special adapters for Wire Harness/Cables.
We can create special order adapters as your request. As experiences, we have semi-automatic inspection jigs linked to inspection equipment and fully automatic inspection jigs that satisfy customer's tact requirements. With the unique ideas we can provide the best adapters.
Our Experience in special adapters
For testing connectors
For testing connectors on the boards
For high-voltage testing
Adopters having probe pins.
For testing special use connectors
For testing narrow pitch connectors
For fully automatic inspection jigs