Construction Machinery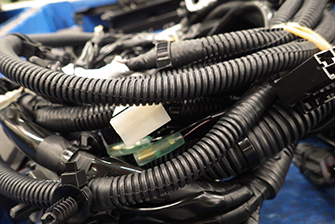 Wire Harness and Wire Harness Testers in Construction machinery industry.
What is required in Construction machinery industry for testing Wire Harness??
Wire Harnesses for Construction machinery have many points like for automobiles. It is in the small lot production and the lead time is short. The fixtures boards are larger than the board for the automobile. And the connectors are over hundreds in the harnesses. The test specs require only wiring. Some need diodes and resistors. The testing is one of the parts of the assembly. Using fixtures board which is the same size as harnesses. This system is useful because they can test with checking part by part.
---
Solution Service
Nac corporation has over 20 years of history to provide good testers to the customers in Construction machinery industry. We can customize the models and the application for your request. Also, we can help to create testing data by providing conversion tools for different types of data. You can replace testers smoothly. And we suggest creating testing data from CAD. In this way you can save your time and there is no doubt about the accuracy of the work.
inquiry
---
nacman Features
Specialists in this industry can suggest the best way for you. You can find the best testers from our various testers. We can customize the models because of all processes from planning to sales by ourselves.
---
Examples of Use
Wire harnesses for main of Construction machinery Wire harnesses for the sub of Construction machinery Wire harnesses for the sensor of Construction machinery Wire harnesses for main of Agricultural machinery Wire harnesses for the sub of Construction machinery And any other construction machinery industry
---
Products running in this industry