NMC128+
Wiring
Conduction Resistance
Dielectric Withstand
Insulation Resistance
Moment Disconnection
Full-featured and safe with abundant memory.
This is the Long-running Continuity Checker that is representative of Nac Corporation, and which has most of the functions required for a continuity checker. Equipped with an abundant memory for 800 parts on the main body of the tester, so it can be used safely for a long period of time.
JPY 138,000
Shipping: 2 weeks After Order  *Not Including Transportation Cost and Fee
Feature
Specification
Model
Accessories
Documents
Options
Feature
A lot of Performances for Wire Harness Testing
nacman NMC+ is Harness Tester can do 2 electric tests(Wiring,Moment Disconnection) for Wire Harness with only it.
This series is widely used for testing Wire Harness, connectors, and many items.
Many NMC128+ operating in Japan and overseas factory.
It is best for testing cable of "small lot" and "wide variety".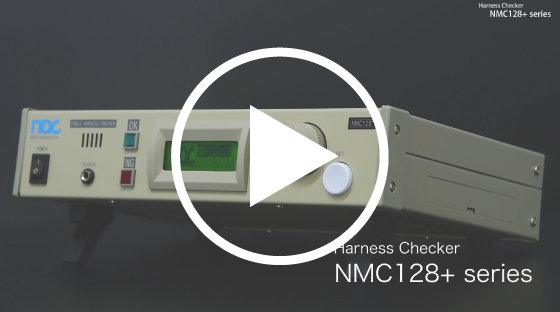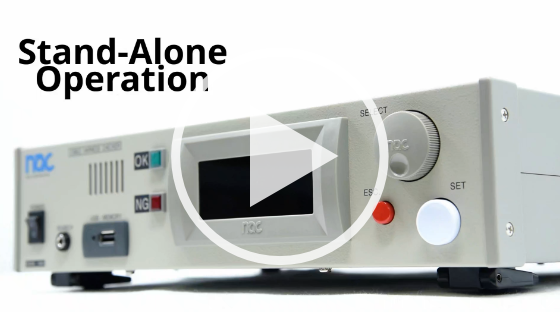 How to Operate Cable Harness Testers in Stand-Alone
This video will show you how to operate the Cable Harness Testers in Stand-Alone.
You can check the preparation of test data by sampling, test the cables, and the settings.
This video can also be used for confirmation when considering the introduction of the Cable Harness Testers and for training the operators.
Good cost performance.
We can provide this product customers with good price by our know-how and selected parts.
Easy to use, Installation soon.
The dial and simple menu are loved by users all over the world.
Test method in high speed and efficiency
Wiring test is completed in super short time.
Worldwide Operation
It is compatible with AC90V~ 240V.
No problem to operate in an overseas factory.
You can choose language settings from English ,Japanese and Chinese.
High quality inspections by Printing.
NMC+ has a printer port.Results can be output for evidences of testing.
Testing by PC communication
PC software WireExpress can be downloaded from our website.
It has a lot of functions for better inspection such as editing testing data, naming each terminal and setting the electric resistance value for each circuit.
Useful functions in stand-alone
In step inspection you can do the test with more than two testing data successively.
This is the best function for harnesses attached switch.
Search testing for loose wire.(sequential,random)
Search function is useful to check and create a jig for inspection.
When the inspection finishes, Sound and LED let you know the result.
You can check the NG wire by turning the dial.
Internal memory for 800 testing data.
All test points are protected from the surge.
Free PC software can expand functions
Unlimited testing data storage.
Setting the test order as requested.
Naming each terminal as requested.
You can set the resistance value range for each terminal.
Saving test results and the detail as CSV automatically.
Login functions for help to separate administrators and workers.
Self-Diagnosis is useful to judge the tester normal or not.
Specification
Wiring Testing


18KΩ
Conduction Resistance Testing


---
Dielectric Withstand Testing


---
Insulation Resistance Testing


---
Moment Disconnection Testing


160ms.Max
Detail
| | |
| --- | --- |
| Product Variant | -- |
| Wiring Testing | ○ |
| Conduction Resistance Testing | -- |
| Conduction Resistance Testing (4wire) | -- |
| Dielectric Withstand Testing(AC) | -- |
| Dielectric Withstand Testing(DC) | -- |
| Insulation Resistance Testing | -- |
| Moment Disconnection Testing | ○ |
| Search Testing | ○ |
| Search Scanning | ○ |
| Test Points | 128 |
| Test Circuits | 127 |
| Number of Memory | 800 |
| Number of Memory by USB | -- |
| Test Channels | -- |
| Number of Event | -- |
| Number of Event by USB | -- |
| Number of Event by PC | -- |
| Number of Output Event by COM port | -- |
| Number of Output Event For Printer | -- |
| Result Output | Printer |
| Connectors | XG4A-6434 |
| Display Method | LCD |
| Operation Method | Dial/Switch |
| Language | English,Japanese,Chinese |
| External Printer | ○ |
| Connector for External Printer | S12B-XH-A |
| Communication Port | ○ |
| Connector for Communication | USB-B |
| Communication Method | USB |
| USB Flash Drive Communication | -- |
| External Input START | START/RESET |
| Output Terminal OK/NG | OK/NG |
| Unit-to-unit Connector | -- |
| | |
| --- | --- |
| Data Retention Period | Over 50 years |
| Clock battery Life | Over 5 years |
| Power Supply | AC90V~AC240V |
| Size | W300mm×D200mm×H60mm |
| Weight | 2.2kg |
| Conditions for use | Temperature:5℃~40℃/Humidity:5%~70% |
| Software | WireExpress |
| Test Points Addition | -- |
| Voltage for Wiring Testing | DC3.3V |
| Current for Wiring Testing | 0.06mAmax |
| Threshold for Wiring Testing | 18KΩ |
| Test time for Wiring Testing | Less than 1sec |
| Voltage for Conduction Resistance Testing | -- |
| Current for Conduction Resistance Testing | -- |
| Threshold for Conduction Resistance Testing | -- |
| Test time for Conduction Resistance Testing | -- |
| Voltage for 4-wire low Conduction Resistance Testing | -- |
| Current for 4-wire low Conduction Resistance Testing | -- |
| Threshold for 4-wire low Conduction Resistance Testing | -- |
| Test time for 4-wire low Conduction Resistance Testing | -- |
| Voltage for Dielectric Withstand Testing(AC) | -- |
| Breaking Current for Dielectric Withstand Testing(AC) | -- |
| Test Time for Dielectric Withstand Testing(AC) | -- |
| Voltage Application for Dielectric Withstand Testing(AC) | -- |
| Voltage for Dielectric Withstand Testing(DC) | -- |
| Breaking Current for Dielectric Withstand Testing(DC) | -- |
| Test time for Dielectric Withstand Testing(DC) | -- |
| Voltage Application for Dielectric Withstand Testing(DC) | -- |
| Voltage for Insulation Resistance Testing | -- |
| Threshold for Insulation Resistance Testing | -- |
| Test Time for Insulation Resistance Testing | -- |
| Voltage Application for Insulation Resistance Testing | -- |
| Voltage for Moment Disconnection Testing | DC3.3V |
| Current for Moment Disconnection Testing | 0.06mAmax |
| Threshold for Moment Disconnection Testing | 18KΩ |
| Detection Time for Moment Disconnection Testing | More than 160msec |
| Test Time for Moment Disconnection Testing | 2~999sec(Or Stop by Button) |
| Moment Disconnection Testing Method | Scanning |
Model
| Product | Test Points | Size | Price | Delivery date |
| --- | --- | --- | --- | --- |
| NMC128+ | 128 | W300mm×D200mm×H60mm | ¥138,000 | About 2 weeks |