NMADP-03
NMADP-03|Screwless terminal board for cable harness testing
NMADP-03, a screwless terminal board that is convenient for manufacturing harness testing jigs.
Jigs can be easily manufactured because the stripped wires can be connected to the terminal with one touch.
For wiring, just insert the wire into the insertion hole while pressing the button, no special tools are required.
JPY 7,500
Shipping: 2weeks After Order  
*Not Including Transportation Cost and Fee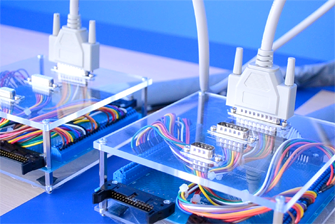 Anyone can make jigs at low cost, quickly and flexibly.
NMADP-03 is a harness inspection jig substrate born from customer's request.
One of our popular products, the inspection jig substrate NMADP-03 is a jig board with terminal blocks on the left and right.
Jigs that are difficult to prepare for each test target.It can be easily and inexpensively created.
Inspection can be performed immediately by connecting the test target using the terminal block of NMADP-03.
One-touch connection with screwless terminals. No special tools are required.
Compatible with high voltage (AC600V, DC500V) inspections!
Available not only with various harness checkers, but also with the harness multi-tester NMG + series !!
Specification
Terminal block of the test target side
Screwless terminal block 64 points
・Applicable wire:24-18AWG
・Wire insertion direction:Diagonally

Connector A for Tester
MIL-C-83503 64-pin header connector (1 nose)
・Connect to 1-64 of screwless terminal block

Connector B for Tester
MIL-C-83503 30-pin header connector (1 nose)
・Connect to 1-30 of screwless terminal block

Connector C for Tester
MIL-C-83503 30-pin header connector (1 nose)
・Connect to 31-60 of screwless terminal block

Size
W:150mm L:150mm H:2mm(Not including rubber feet / projections)
Document
| | |
| --- | --- |
| NMADP-03 Board dimensions | Click here to download. |