Railway vehicles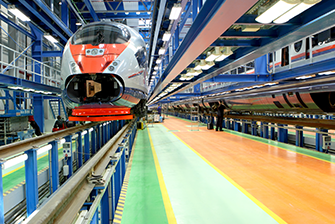 Wire Harness and Wire Harness Testers in railway vehicle industry.
What is required in railway vehicle industry for testing Wire Harness??
Recently Wire Harnesses for railway especially in power supply devices get complicated. It has over 2000~4000 points. Only wiring testing is required for it. It is inspected twice in the assembly and after vehicle installation. Testing speed and usability are the important points to complete the testing quickly and find the wrong parts easily. And the customers request the testing facilities can be moved for approaching vehicles.
---
Solution Service
Nac corporation has over 25 years of history to provide good testers to the customers in railway vehicle industry. Those can test in high-speed even if the electrical parts such as diodes, condensers, resistances are included in the test targets. We can customize the models and the application for your request. Also, we can help to create testing data by providing conversion tools for different types of data. You can replace testers smoothly. And we suggest creating testing data from CAD. In this way, you can save your time and there is no doubt about the accuracy of the work.
---
nacman Features
We have a great deal of experience and unique ideas.We can suggest the best way for you. High-speed and high-accuracy testing by Cutting edge technology and devices. All processes from planning to sales by ourselves.
---
Examples of Use
Wire harnesses for railway vehicle And any other railway vehicle industry.
---
Products running in this industry