MD analyzer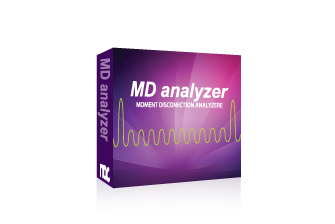 Amazing analysis. The best performance of Moment disconnection Analyzer NMS10 by this software
MD analyzer is the software attached to Moment disconnection Analyzer NMS10. This is adapted to the product evaluation and the lines. You can start operating it immediately. Without NMS10, MD analyzer can play back the test results as the graphic chart with the data saved in USB.
Functions
Unlimited inspection data storage/Setting tests spec/show the graphic chart of the moment discconection/Monitoring for a long time/Recording the test result and the values automatically/Login for separeting functions for managers and inspectors/Self-diagnosis for trust in machines
---
Video Manual for MD analyzer
You can check and learn the operation of harness testing software by videos. It is best for the first time and the operator's education.
---
Supported OS
Windows XP Professional (JPN/EN)
Windows 7 Professional (JPN/EN)
Windows 8.1 Pro (JPN/EN)
Windows 10 Pro (JPN/EN)
Windows 11 Pro (JPN/EN)
Compatibility setting is required.Please qlick here to watch the video manuals.