NM11B
Wiring
Conduction Resistance
Dielectric Withstand
Insulation Resistance
Moment Disconnection
Captures invisible disconnection of 1/10,000,000 seconds.
Momentary disconnection tester that supports completely Pass/Fail evaluations. It detects momentary disconnection of 0.1 μs.
| | |
| --- | --- |
| Test Channels | 10 Channels |
JPY 398,000
Shipping: 2-4weeks After Order  *Not Including Transportation Cost and Fee
Feature
Specification
Model
Accessories
Documents
Feature
Moment Disconnection tester in production line and Product evaluation
Moment Disconnection tester in production line and Product evaluation
nacman NM11B is Moment disconnection Tester
It is dedicated machine for Moment Disconnection Testing for wire harness and connectors.
NM11B gets a high reputation in various fields to judge OK or NG and evaluate the products.
There is a great demand to inspect it in the environment exposed to vibration such as Automobile, Construction machinery,Train and Ship.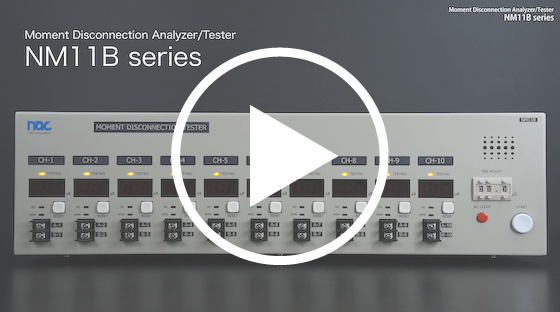 All-in-one for testing moment disconnection
You can inspect moment disconnection with only NMS10.
From the view of cost, with NMS10 is more reasonable than with oscilloscopes.
Easy to use,Introducing soon
Simple operating by the switch and the button.
Displaying on LED and easy to know NG.
Worldwide Operation
It is compatible with AC90V~ 240V.
No problem to operate in an overseas factory.
Trust and security
Monitoring the temperature of the inside for safety.
If the fan for cooling stops the circuit protection works automatically.
It is usable in testing for a long time.
Performance by technology
Monitoring all 10 channels at the same time.
Capturing moment disconnection in high-level (0.1μs~99.9μs)
Test Stop with the sound when NG occurs.
Specification
Wiring Testing


---
Conduction Resistance Testing


---
Dielectric Withstand Testing


---
Insulation Resistance Testing


---
Moment Disconnection Testing


0.1μs.~99.9μs.
Detail
| | |
| --- | --- |
| Product Variant | -- |
| Wiring Testing | -- |
| Conduction Resistance Testing | -- |
| Conduction Resistance Testing (4wire) | -- |
| Dielectric Withstand Testing(AC) | -- |
| Dielectric Withstand Testing(DC) | -- |
| Insulation Resistance Testing | -- |
| Moment Disconnection Testing | -- |
| Search Testing | -- |
| Search Scanning | -- |
| Test Points | 10 |
| Test Circuits | 10 |
| Number of Memory | -- |
| Number of Memory by USB | -- |
| Test Channels | ○ |
| Number of Event | -- |
| Number of Event by USB | -- |
| Number of Event by PC | -- |
| Number of Output Event by COM port | -- |
| Number of Output Event For Printer | -- |
| Result Output | -- |
| Connectors | ML-270-S1B3YF |
| Display Method | LED7 Segments |
| Operation Method | Switch |
| Language | Number |
| External Printer | -- |
| Connector for External Printer | -- |
| Communication Port | -- |
| Connector for Communication | -- |
| Communication Method | -- |
| USB Flash Drive Communication | -- |
| External Input | -- |
| Output Terminal | -- |
| Unit-to-unit Connector | -- |
| | |
| --- | --- |
| Data Retention Period | -- |
| Clock battery Life | -- |
| Power Supply | AC90V~AC240V |
| Size | W550mm×D200mm×H130mm |
| Weight | 6kg |
| Conditions for Use | Temperature:5℃~40℃/Humidity:5%~70% |
| Software | -- |
| Test Points Addition | -- |
| Voltage for Wiring Testing | -- |
| Current for Wiring Testing | -- |
| Threshold for Wiring Testing | -- |
| Test time for Wiring Testing | -- |
| Voltage for Conduction Resistance Testing | -- |
| Current for Conduction Resistance Testing | -- |
| Threshold for Conduction Resistance Testing | -- |
| Test time for Conduction Resistance Testing | -- |
| Voltage for 4-wire low Conduction Resistance Testing | -- |
| Current for 4-wire low Conduction Resistance Testing | -- |
| Threshold for 4-wire low Conduction Resistance Testing | -- |
| Test time for 4-wire low Conduction Resistance Testing | -- |
| Voltage for Dielectric Withstand Testing(AC) | -- |
| Breaking Current for Dielectric Withstand Testing(AC) | -- |
| Test Time for Dielectric Withstand Testing(AC) | -- |
| Voltage Application for Dielectric Withstand Testing(AC) | -- |
| Voltage for Dielectric Withstand Testing(DC) | -- |
| Breaking Current for Dielectric Withstand Testing(DC) | -- |
| Test time for Dielectric Withstand Testing(DC) | -- |
| Voltage Application for Dielectric Withstand Testing(DC) | -- |
| Voltage for Insulation Resistance Testing | -- |
| Threshold for Insulation Resistance Testing | -- |
| Test Time for Insulation Resistance Testing | -- |
| Voltage Application for Insulation Resistance | -- |
| Voltage for Moment Disconnection Testing | DC3.3V |
| Current for Moment Disconnection Testing | 100mAmax |
| Threshold for Moment Disconnection Testing | About 33Ω |
| Detection Time for Moment Disconnection Testing | 0.1~99.9μsec. |
| Test Time for Moment Disconnection Testing | NG or Stop by Button |
| Moment Disconnection Testing Method | Concurrent Method |
Model
| Product | Test Points | Size | Price | Delivery date |
| --- | --- | --- | --- | --- |
| NM11B | 10 | W550mm×D130mm×H200mm | ¥398,000 | About 2 weeks |
Accessories
| | |
| --- | --- |
| Testing Cable | -- |
| Power Cable | NMCBL-PWR (2P/3P Plug Attached) |
| Search Probe | -- |
| Calibration Certificate | Calibration Certificate/Traceability System Diagram/Inspection Result Sheet |
| Warranty | 1 Copy |