NMM01A
Wiring
Conduction Resistance
Dielectric Withstand
Insulation Resistance
Moment Disconnection
Compact and Easy.Useful not only in a worksite but also in a lab and office!!
A reliable machine for moment disconnection testing!!High-level inspection with you!!
JPY 138,000
Shipping: 2-4weeks After Order  *Not Including Transportation Cost and Fee
Feature
Specification
Model
Accessories
Documents
Feature
Unpredictable defective product can be by Moment disconnection??
Making high-quality your products by NMM01A
Some customers inquiry us NG occurrence in the assembly in spite of electrical testing passes.
It is a bothering problem for inspectors, connector manufacturers and manufacturer of assembled products。
In this case, there is a possibility to occur moment disconnection in the product.
Actually moment disconnection tester helps customers find trouble in the environment exposed to vibration.
With this tester, you can test the intersection of connectors.
Better quality and support 0 defective product in the field.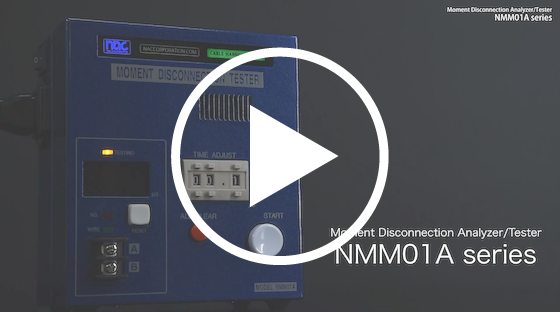 Compact and Space saving,Testing moment disconnection anywhere
There is great demand to inspect it in the environmental exposed to vibration such as Automobile,Construction machinery,Train and Ship.
Because the electrical devices are complicated day by day.
the moment disconnection can cause fatal trouble to devices operating.
NMM01A is the most compact tester for moment disconnection.
You can test moment disconnection anywhere with it.
Simple opereation and easy installation
As nacman testers,NMM01A is simple and beautiful design for easy use.
When the NG is detected, You can know it by NG sound.
Specification
Wiring Testing


---
Conduction Resistance Testing


---
Dielectric Withstand Testing


---
Insulation Resistance Testing


---
Moment Disconnection Testing


0.1μs.~99.9μs.
Detail
| | |
| --- | --- |
| Product Variant | -- |
| Wiring Testing | -- |
| Conduction Resistance Testing | -- |
| Conduction Resistance Testing (4wire) | -- |
| Dielectric Withstand Testing(AC) | -- |
| Dielectric Withstand Testing(DC) | -- |
| Insulation Resistance Testing | -- |
| Moment Disconnection Testing | -- |
| Search Testing | -- |
| Search Scanning | -- |
| Test Points | 1 |
| Test Circuits | 1 |
| Number of Memory | -- |
| Number of Memory by USB | -- |
| Test Channels | 1 |
| Number of Event | -- |
| Number of Event by USB | -- |
| Number of Event by PC | -- |
| Number of Output Event by COM port | -- |
| Number of Output Event For Printer | -- |
| Result Output | -- |
| Connectors | ML-270-S1B3YF |
| Display Method | LED7 segments |
| Operation Method | Switch |
| Language | Number |
| External Printer | -- |
| Connector for External Printer | -- |
| Communication Port | -- |
| Connector for Communication | -- |
| Communication Method | -- |
| USB Flash Drive Communication | -- |
| External Input | -- |
| Output Terminal | -- |
| Unit-to-unit Connector | -- |
| | |
| --- | --- |
| Data Retention Period | -- |
| Clock battery Life | -- |
| Power Supply | AC90V~AC240V |
| Size | W140mm×D85mm×H160mm |
| Weight | About 1.2kg |
| Conditions for Use | Temperature:10℃~40℃/Humidity:5%~70% |
| Software | -- |
| Test Points Addition | -- |
| Voltage for Wiring Testing | -- |
| Current for Wiring Testing | -- |
| Threshold for Wiring Testing | -- |
| Test time for Wiring Testing | -- |
| Voltage for Conduction Resistance Testing | -- |
| Current for Conduction Resistance Testing | -- |
| Threshold for Conduction Resistance Testing | -- |
| Test time for Conduction Resistance Testing | -- |
| Voltage for 4-wire low Conduction Resistance Testing | -- |
| Current for 4-wire low Conduction Resistance Testing | -- |
| Threshold for 4-wire low Conduction Resistance Testing | -- |
| Test time for 4-wire low Conduction Resistance Testing | -- |
| Voltage for Dielectric Withstand Testing(AC) | -- |
| Breaking Current for Dielectric Withstand Testing(AC) | -- |
| Test Time for Dielectric Withstand Testing(AC) | -- |
| Voltage Application for Dielectric Withstand Testing(AC) | -- |
| Voltage for Dielectric Withstand Testing(DC) | -- |
| Breaking Current for Dielectric Withstand Testing(DC) | -- |
| Test time for Dielectric Withstand Testing(DC) | -- |
| Voltage Application for Dielectric Withstand Testing(DC) | -- |
| Voltage for Insulation Resistance Testing | -- |
| Threshold for Insulation Resistance Testing | -- |
| Test Time for Insulation Resistance Testing | -- |
| Voltage Application for Insulation Resistance Testing | -- |
| Voltage for Moment Disconnection Testing | DC3.3V |
| Current for Moment Disconnection Testing | 100mAmax |
| Threshold for Moment Disconnection Testing | About33Ω |
| Detection Time for Moment Disconnection Testing | 0.1~99.9μsec. |
| Test Time for Moment Disconnection Testing | NG or Stop by Button |
| Moment Disconnection Testing | -- |
Model
| Product | Test Points | Size | Price | Delivery date |
| --- | --- | --- | --- | --- |
| NMM01A | 1 | W140mm×D85mm×H160mm | 138000 | About 2 weeks |
Accessories
| | |
| --- | --- |
| Testing Cable | -- |
| Power Cable | NMCBL-PWR (2P/3P Plug Attached) |
| Screwdriver for volume | NMF-SD(1set) |
| Calibration Certificate | Calibration Certificate/Traceability System Diagram/Inspection Result Sheet |
| Warranty | 1 Copy |